Biography
Hoodrich Pablo Juan was born in Newark, New Jersey in the USA. His birth date is 28th October, 1989. He is an American songwriter, rapper, singer, actor and record producer. He is mainly famous as a rapper. His current residence is in Atlanta, Georgia. His stage name is 'Juan Pablo Escobar'
Biography
As Hoodrich Pablo Juan is a very private person, there is not much information about his parents. He has kept it as a low profile. He was raised in Atlanta, Georgia. He has graduated from high school. He has also many brothers and sisters.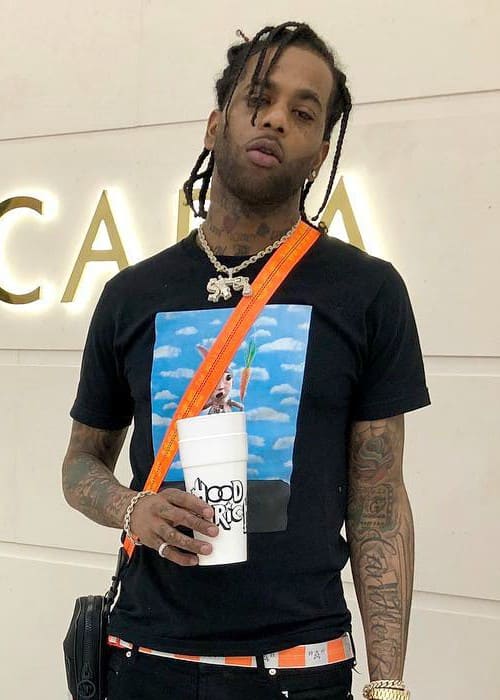 Rap career
Pablo started his career in 2015. 'Designer Drugz' which released in 2015 is his first discography. The second part of this mixtape was released in 2016. Peewee Longway, the hip-hop artist worked on 'African Diamond' track. He got the fame and popularity after releasing his creation 'Man with a Plan'. In 'Million Dollar Plugs 2', he worked with Jose Guapo, another popular rapper.
Pablo's single which released in 2016, 'Master Sensei Intro'. It got over 800k spins on the Soundcloud platform. Spiffy Global produced the track. The official video was viewed and appreciated more than 3.1 million times.
He worked with many famous singers like, Soulja Boy, Pablo Kravitz, Migos and Gucci Mane. His other works are Guerilla Warfare and South Dark. DJ Scream hosted the tape 'MONYPOWRSPT WORLD RULES' in 2017. He worked in 'Hood Wolf' in 2017 which was Danny Wolf. In the song 'Zabamambafoo' he worked with Lil Yachty and Lil Uzi Vert. Later, he signed in '1017 Eskimo' records. His latest work 'Firework' is viewed over 200k on YouTube.
He also appeared and worked on many titles with other artists like, Brick Factory III, The Blue M&M Vol. II: King Size, Drip Season 2, Zaytoven Presents: Trapping Made It Happen, Drip Season 3, Lil Black Jean Jacket, Harder Than Ever, Don't Think That, Chest Pains, Bartier Bounty, LOWKEY, Crazy But It's True, Gamble, i-DJ: brat star, Wildflower, Hood Baby, The Interlude, Don Season 2, Flex Muzik 2, FACT 643, Shawty Paid etc. He made one EP named 'The Matrix'. 'BLO: The Movie', his latest album is released on 3rd May, 2019.
From the year 2015-2019, His famous singles are Bodeine Withdrawals, Percocet, Bags, I Can, I Used To, Zambamafoo, Back & Forth, We Don't Luv Em (Remix), Money Man, Screaming Slatt and Shoebox. Few mixtapes are, It's Auto Juan in da Building, Poppy Seed Connect da Grand Hu$$le, MONYPOWRSPT - World Rules, Rich Hood, HoodWolf 2 etc.
Personal life
He is not married. He is a very private person and never discloses any of his personal life information. So it is not confirmed whether he has any girlfriend or not.