Biography
He is an American engineer and astronaut, his biggest achievement is being the second man to step on the moon after Neil Armstrong during the Apollo11 in 1969.
Who is Buzz Aldrin?
His full name is Edwin Eugene Aldrin Jr, he was born on January 20 of 1930 in New Jersey, USA.
He got the nickname "Buzz" when his little sister had difficulty to pronounce the word "brother" and said "buzzer" instead. The family members have shortened "buzzer" to become "Buzz". Aldrin makes of it his official name in 1988. Buzz attended Montclair High School in Montclair, New Jersey and was graduated in 1947 to head after that to the U.S. Military Academy at West Point. He excelled in this discipline and in the strict regimen as well.
His hard work earned him to be the first in his class. In 1951, he graduated third in the class and become officially a mechanical engineer. His father Edwin Eugene Aldrin was at that time a colonel in the U.S Air Force and he was the reason behind the choice of Buzz to attend a Military school. However, his mother, Marion Moon, was a stay at home parent, and the daughter of Army Chaplain.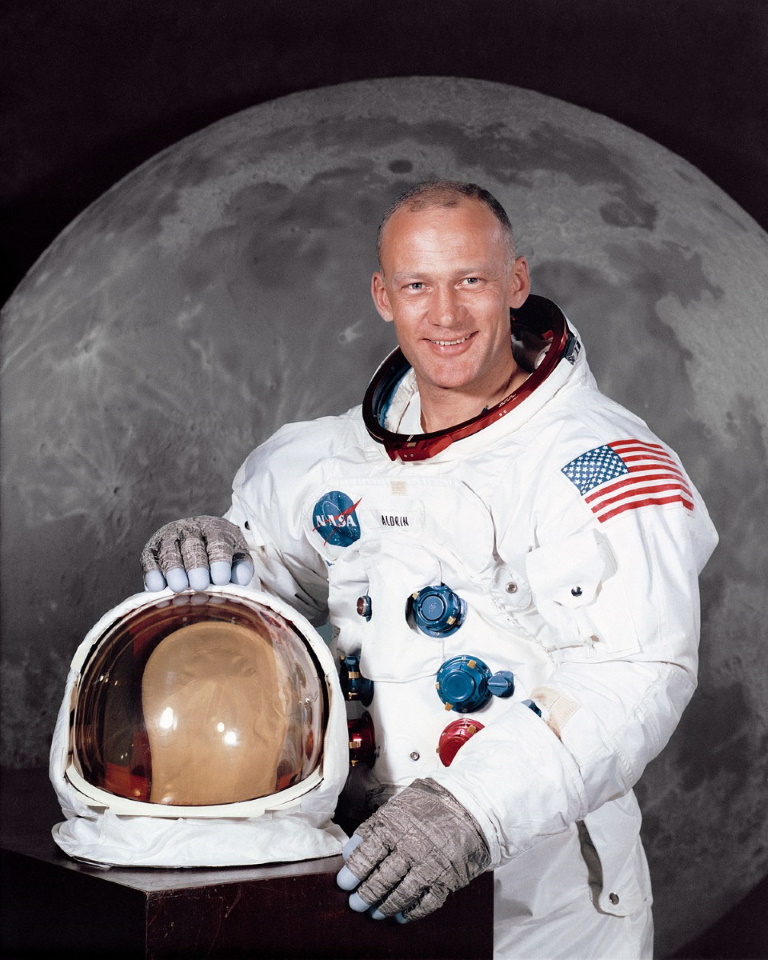 Military Career
Buzz's father has seen his son able to proceed on multi-engine flight school so he can later take control of a flight crew like the father used to do. But the son estimated that he should become a fighter pilot. Buzz's father did not like the idea and after a summer of attempts on military planes of Europe, he ended up joining the United States Air Force in 1951. His scores were good enough to be among the top of his class in the flight school. Hence, he started fighter training during that year.
Over his period in the military, Buzz took part of the 51st Fighter Wing and participated in 66 combat missions in Korea with his F-86 Sabre Jets. During the war, the mission wing was to defend the South Korea from the attacks of communists based in North Korea. Buzz's wing was the reason behind breaking the enemy records after shooting down 61 enemy MIGs and destroyed 57 others in only a month of battle. Thanks to his loyalty and services, Aldrin was honored with the Distinguished Flying Cross.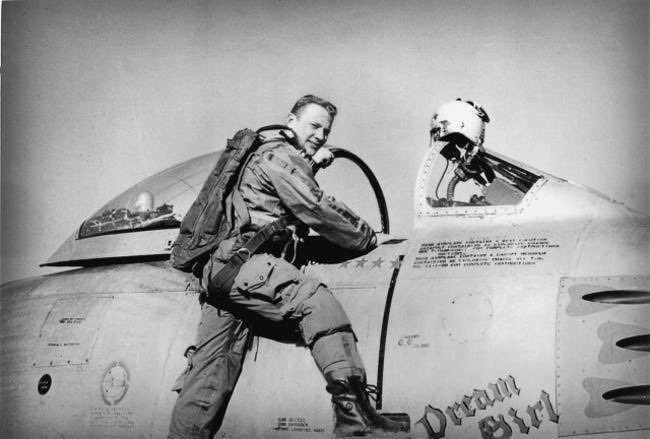 In 1953, a cease fire was announced between South and North Korea which allowed Aldrin to return home and pursue higher education at the Massachusetts Institute of Technology.
He first planned to get a master degree and then proceed to a test pilot school, but he ended to earn a Ph.D in aeronautics and astronautics, this was in 1963. The subject of his thesis "Line-of-sight guidance techniques for manned orbital rendezvous" was to study how to bring spacecraft into proximity with other spacecrafts.
NASA Career
Aldrin's thesis of rendezvous allowed him attending the space program few months after his graduation. It was in 1963 when NASA selected him with two other men to accomplish the mission of pioneering a space flight. He was by the way the only astronaut with a doctorate and so he was called "Dr. Rendezvous". Aldrin main task was to create a docking and to apply his thesis techniques for the mission. Aldrin was also behind the idea of simulating spacewalking by performing underwater exercises.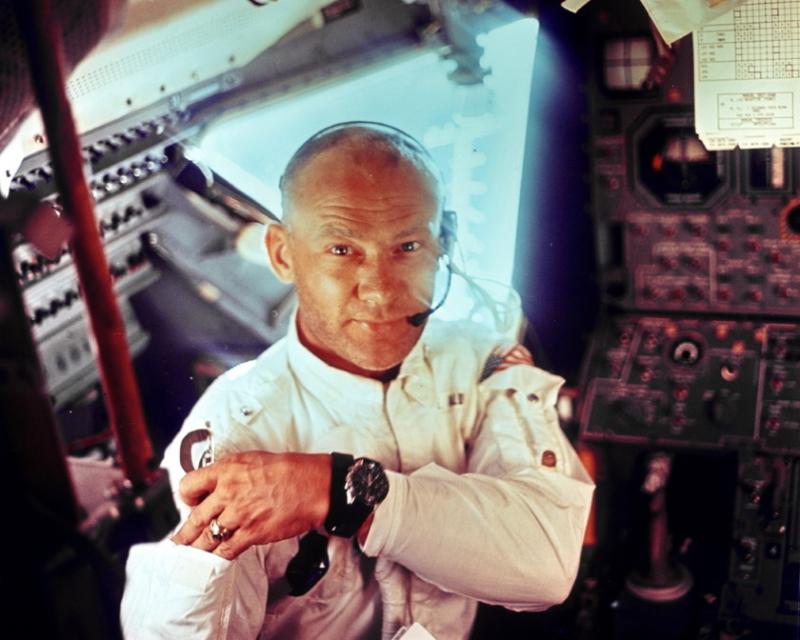 In the end of 1966, Aldrin, accompanied with astronaut Jim Lovell, was selected to the Gemini 12 mission. The space flight lasted from 11th of November to the 15th of November in which Aldrin made a spacewalk of 5 hours and it was a first successful spacewalk at that era. During the mission, the onboard radar has failed and it was the opportunity for Aldrin to use his abilities when he recalculated the docking maneuvers of the flight. Having completed Gemini 12 successfully, Aldrin was called to take part with backup crew of Apollo 8 with Neil Armstrong and Harrison Schmitt.
After that, it came the Apollo 11 mission which made history; Aldrin was the lunar module pilot. Exactly on the 20th of July 1969, he registered his name as the second man to walk on the surface of the moon following Armstrong who was the mission commander and the first man to step on the moon. This walk was televised and watched by over 600 million of people around the world, the world has never seen such television audience before!
Once they landed safely on Earth, Aldrin was honord with the Presidential Medal of Freedom and earned an international goodwill tour of 45 days beside calling "Aldrin Crater" on the moon after him. After decades, in 2011, Aldrin received the Congressional Gold Medal and got four stars on the Hollywood Walk of Fame.
Was Buzz Aldrin Married?
Well, Buzz has been married more than one time. Actually, three times and his first wife was an actress Joan Archer, from 1954 to 1972 and they got three children; James, Janice and Andrew. Buzz's second wife was Beverly Zile from 1975 to 1978. However, his last wife so far was Lois Driggs Cannon, their marriage lasted from 1988 to 2012.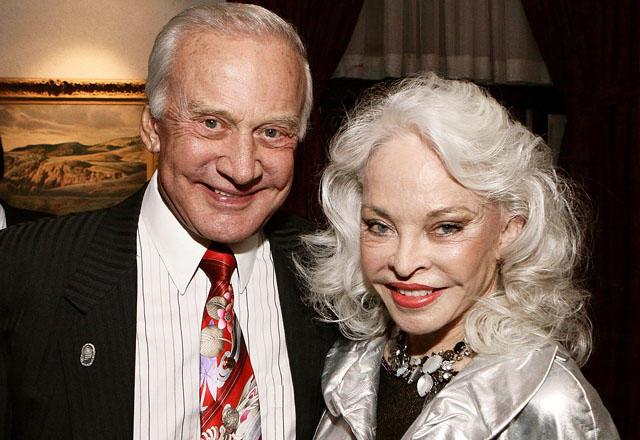 Net worth
Buzz Aldrin net worth is estimated of $12 million and his main income source is astronaut. Besides, he is ranked as one of the most popular celebrities list.