Biography
Born and raised in Tottenham, North London, Jahmaal Noel Fyffe is the popular British songwriter and rapper. He gained prestige through his stage moniker 'Chip'. He is also famous as 'Chip Diddy Chip' in music circles. He rose to prominence with his hit track 'Until You Were Gone'. Seeing his professional success, many famous musicians collaborated with the rising star. His collaboration with N-Dubz garnered critical acclaim. In 2009, the talented rapper rolled out his debut studio album under the moniker 'I Am Chipmunk'. The album featured four spectacular songs, which entered the top 10 UK Singles Chart. One of the songs titled 'Oopsy Daisy' turned out to be a massive hit.
Two years later in 2011, the fabulous rap artist launched another striking album 'Transition'. The 2nd studio album came out officially on Apr 15, 2011, via Jive Records in England. This awesome musical collection peaked at the 10th spot in the UK. Around 9,445 copies were sold just within the first week of official release. A noteworthy track titled 'Champion' featured the American singer and dancer Christopher Maurice Brown, professionally famous as Chris Brown. It secured 2nd spot on the UK Hot Singles Chart.
Chip performed memorable associated acts with Meek Mill, Ella Mai, Skepta, Wretch 32, Mavado, Ice Kid, Jeremih, Lethal Bizzle, Stormzy, CeeDee, WSTRN, and Chris Brown. From 2009 to 2011, he was signed to Jive Records. In 2012, he launched musical hits under 'Grand Hustle Records'. In 2014, he signed a contract with Cash Motto Records and since then has been launching music projects under the same label. Chip has become a veteran in Grime and Hip Hop genres of rap music. The 29-year old stunner has big dreams to launch more studio albums in the coming years.
Who are Chip's Parents?
Noel took his first breath on Nov 26, 1990, in his hometown Crouch End. He belongs to Jamaican lineage akin to his forefathers. Parents of the future artist lived together until he reached the age of a young boy. Later on, his father and mother parted their ways due to irreconcilable differences. The talented young boy received pet name 'Chipmunk' from his buddy. The friend who named the rapper Chipmunk was later knifed to death. He received his nickname because of his short height, chubby cheeks, and big teeth.
The separation of his parents affected the child during his childhood. He started to spend time alone and stayed away from the company of his friends. His mother wanted the young kid to become actively involved in healthy activities. That's why she allowed him to sing songs and play musical instruments.
Chip began rapping after listening to his inspirations Dizzee Rascal and Wiley on pirate radio. After his first exposure to rap songs, he became an addict to rap music. He was just 13 years of age when started renting out studios for just £20 in order to record songs with his buddies. The young and talented rapper went to Gladesmore Community School located in Tottenham, London. The rapper faced numerous problems at the Highgate Wood. Jahmaal attended the Haringey Sixth Form Centre to pursue A-Levels after the completion of his secondary school education. He achieved C in Sociology, B in Drama, and D in Critical Thinking.
Rap Career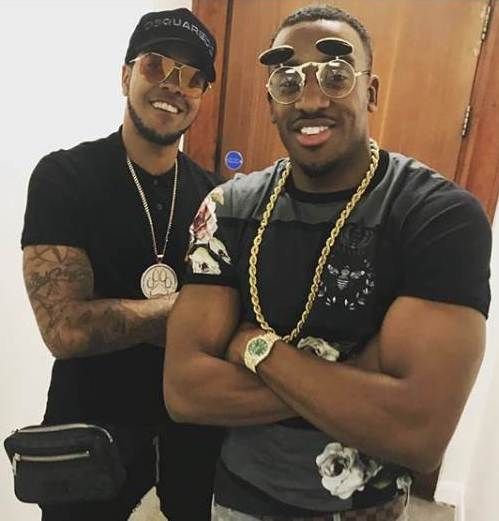 In 2007, Chip came to attend the radio show of Tim Westwood alongside Ice Kid. Both of them performed freestyle, which received positive feedback from listeners. Soon after starting the professional endeavor, the future rapper signed a contract with Sony Music UK's Jive Records. The guy has an exclusive importance as eleven of his tracks went into top ten numbers on the UK Singles Chart.
The rapper was sixteen years of age when he released his track 'Who Are You?'. It received massive success with more than 3,000,000 views on the largest video website YouTube. The tremendous success of his song boosted his confidence and paved way to further achievements in the music industry. Chip has launched four full-length studio albums thus far in his professional rap career. His debut studio album 'I Am Chipmunk' was released in 2009. In 2011, the rapper came out with another awesome collection of songs in form of his 2nd studio album 'Transition'. It was another wonderful success for the young rapper.
In 2017, Chip rolled out his 3rd studio album with caption 'League of My Own II'. He received positive feedback from fans from all over the world. In 2018, he officially released his 4th and most recent studio album as 'Ten10'. The rapper received more than a couple of awards including, three MOBO Awards, two Urban Music Awards, and one MP3 Music Awards. Today, he is one of the most successful rap artists in the British music industry.
Feuds
Not all rappers stay away from feuds and assaults. Most of them get into wicked things somehow at some point in life. Chip received 12 stitches in the head after he met a quad bike accident. Now he drives a car to stay away from such accidents in the future. He rose to prominence due to his feuds with Lowkey, Tinie Tempah, Yungen, and Bugzy Malone.
Does Chip have a Girlfriend?
Originally wanting to become a footballer, Chip stumbled upon into British music industry. After starting a new professional life as a rap artist, he met a lot of beautiful women. According to alleged reports, he has been in secret relationships with unknown women. However, the rapper doesn't talk openly about his notorious affairs. He is neither engaged nor married as of today. There's no word available regarding his future wife. It looks like the rapper prefers his professional life over a personal one.
How much is Chip's Net Worth?
Chip has given four tremendously superb studio albums to music fans from all over the world. He wants to make his fans feel great with his musical compositions. The hard work of the British star can be seen in his songs. Soon after representing his fascinating rap talent in front of music producers, he made a special place in the hearts of British music fans. Chip owns an estimated net worth totaled at the US $10 Million.