Biography
Eazy-E, (born ERIC WRIGHT) was a groundbreaking American rapper whose entrepreneurial instincts and philosophical approach to hip-hop as a political artform helped bring gangsta rap into the mainstream of U.S. Popular culture in the early 1990s. Along with Dr. Dre and Ice Cube, Eazy-E was a founding member of the seminal multi-platinum hip-hop group N.W.A.. Eazy-E had a lucrative solo career as well, both as a performer and a producer. His "It's On (Dr. Dre) 187um Killa" was one of the top-selling rap records of 1993 and was eventually certified gold.
At the time of his death in 1995, Eazy-E's Ruthless Records was a successful label on its own terms, producing commercially viable and critically acclaimed material, including influential work by Bone Thugs-n-Harmony. After his untimely death at the age of 31, Eazy-E's life and legacy became a hip-hop touchstone, culminating in Bone Thugs-n-Harmony's Grammy-Award-winning tribute "Tha Crossroads." Eazy-E's influence on a subsequent generation of hip-hop artists can be seen most notably in Kendrick Lamar, who has publicly cited Eazy-E as an inspiration.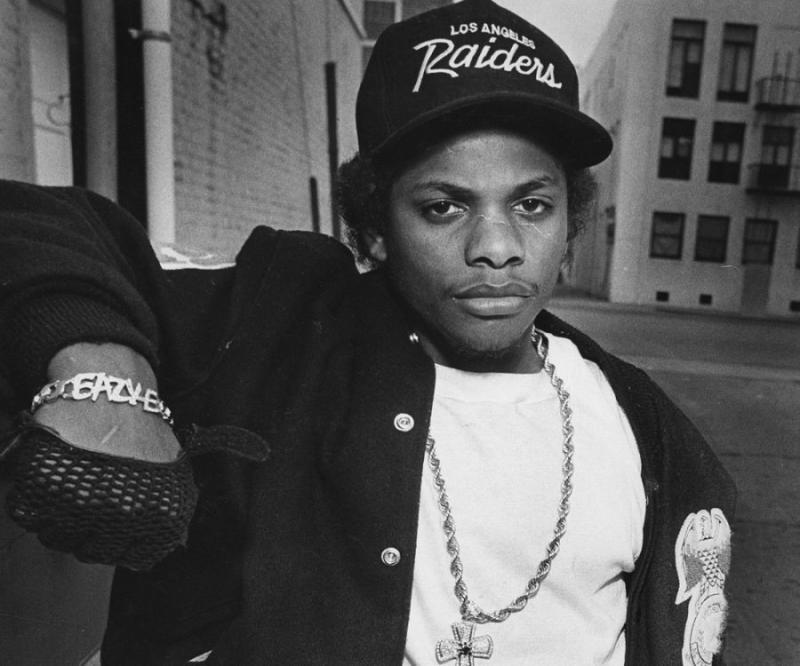 About
Eazy-E was born Eric Wright on September 7, 1963 in Compton, California to Kathie and Richard Wright. His mother was a teacher, and his father worked for the U.S. Postal Service.
After dropping out of high school, Eazy-E lived the life of the streets that so much of N.W.A's most powerful material represents. His participation in Compton's underground economy shaped the way he understood power and authority as well as business--concepts that N.W.A would later bring to the forefront of American political consciousness. Although Eazy-E would later earn a GED, he financed his early recording career, launched in his parents' garage, with money earned through the underground economy.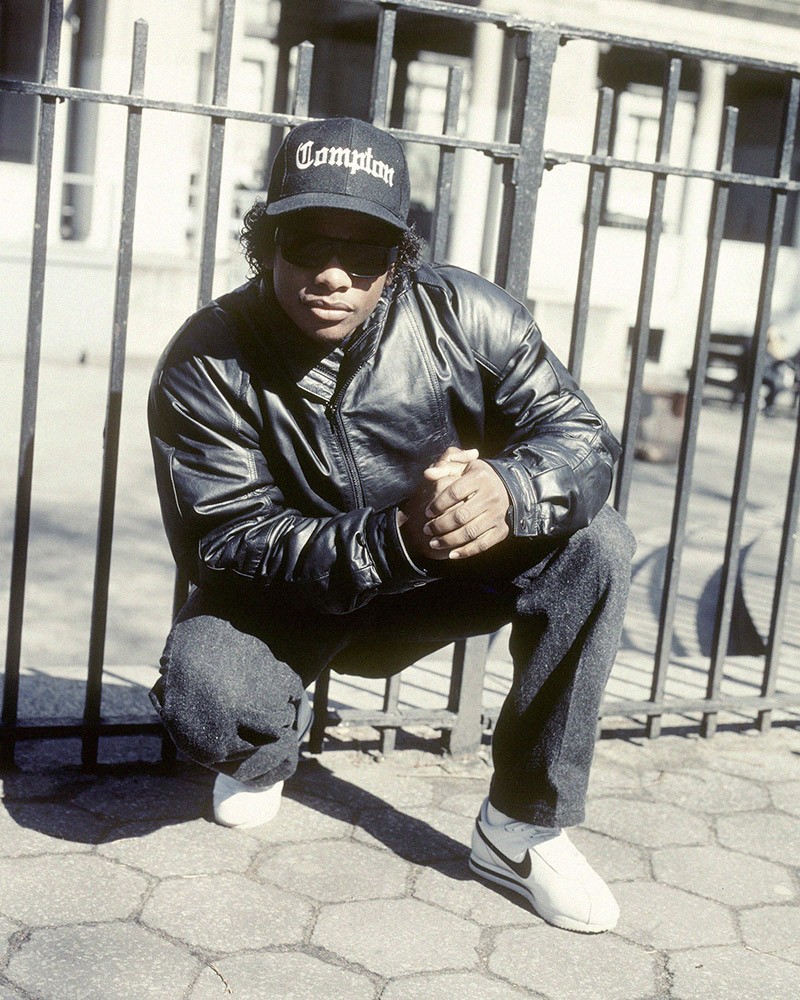 Rap career
In the late 1980s, Eazy-E emerged onto a vibrant underground hip-hop scene, where he encountered spinning by Antoine "DJ Yella" Carraby and Andre "Dr. Dre" Young among other groundbreaking artists affiliated with club-owner and artist Alonzo Williams, including Ice Cube. Williams's club was ground-zero for a thriving LA hip-hop scene. From this magical cauldron of energies and desires, the now-classic "Boyz N The Hood," written by Dre and Ice Cube and rapped by Eazy-E, announced a new era of hip-hop. Some of hip-hop's most influential and politically significant material followed, including N.W.A's platinum-selling masterpiece Straight Outta Compton with its anthemic "Fuck Da Police," a record that proved to be as popular with majority-white suburban record buyers as it was in the African-American communities that were the spiritual backbone of early 1990s hip-hop.
In part, this success was the result of the huge controversy N.W.A generated and in turn exploited. Although N.W.A captured the imagination and the attention of a widespread audience of fans, it earned the ire of the mainstream American ruling class. The FBI sent a now-infamous letter to N.W.A.'s record label asking that it stop distributing N.W.A. The letter raised questions about whether the U. S. Government was seeking to quash free speech and artistic expression, as American politicians of both major political parties frequently criticized the violence and drug-culture N.W.A seemed to glamorize.
All art either emerges from, or helps to shape, the spirit of its times. The Rodney King beating by members of the Los Angeles Police Department--and the riots they sparked--seemed ready-made for an N.W.A soundtrack, and Easy-E's public comments following the riots linked hip-hop as an art form to the political oppression that defined the contours of the lived experience being documented in N.W.A. lyrics and being rapped about by Eazy-E and others. And while N.W.A's reputation remained controversial, the group's commercial success was as indisputable as it was contentious.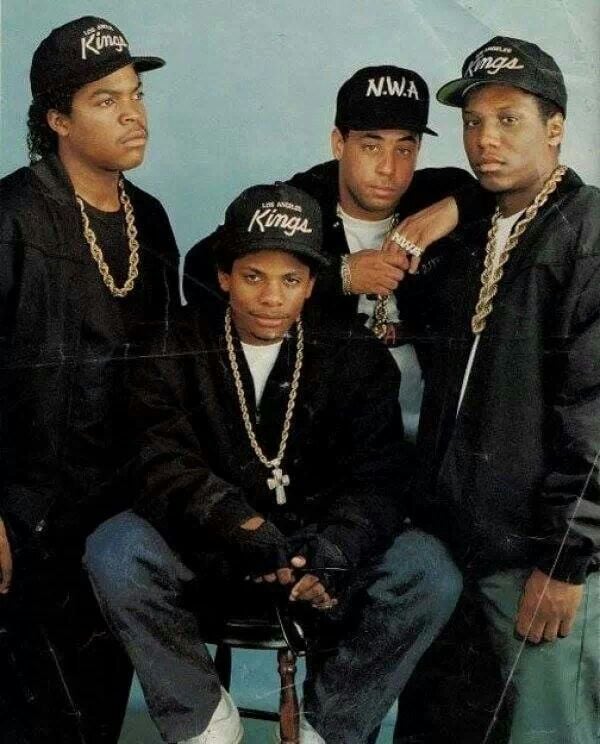 It was this success that led to N.W.A's break-up in 1991. Easy-E's business style, especially his partnership with agent Jerry Heller, resulted in many bitter and public disputes among the former members and is part of the now-legendary, almost-imperialistic record-label rows that were a crucial part of the mythology of gansta rap in that era.
Eazy-E was also a successful solo artist in his own right. His solo recording career culminated in the release of several commercially successful studio albums and EPs, most notably 1992's 5150: Home 4 tha Sick, which followed the early success of the 1988 solo album Eazy-Duz-It. Record labels under Eazy-E's control likewise generated some of the most lucrative and critically-acclaimed hip-hop of the early 1990s. At the time of his death in 1995, Easy E was at work on the album that would be released posthumously as Str8 off tha Streetz of Muthaphukkin Compton.
Although his writing and performing skills were generally interpreted as being less refined than some of this fellow N.W.A members, nevertheless Eazy-E represented the gangsta rap ideal, an almost perfect balance of street credit, business savvy, and artistic sensibility.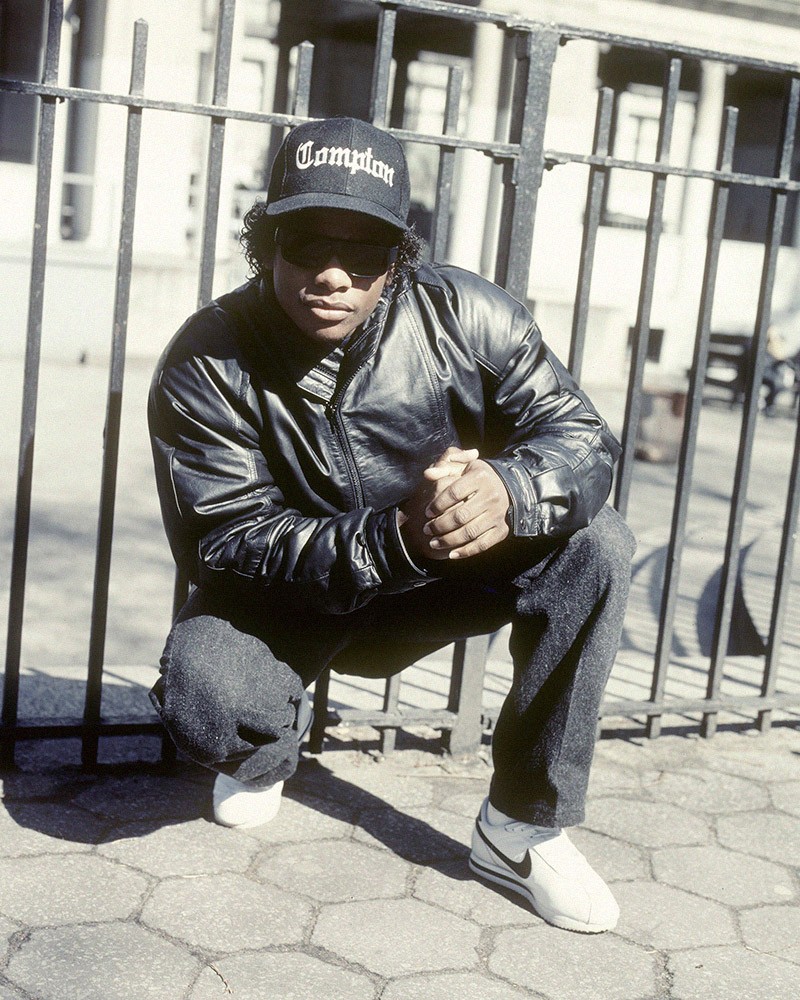 Personal life
Easy-E's personal life is widely seen as being reflected in his artistic work, which is thought to be at least partly autobiographical. Eazy-E purportedly lived out the sexually promiscuous lifestyle recorded in much of the gangsta rap he helped make famous. When he died at Cedars-Sinai Medical Center from complications related to AIDS on March 26 1995, Eazy-E had married an already pregnant Tomika Wood. They were wedded during Eazy-E's final hospitalization in late February 1995, and the two already had a one-year-old son at the time.
It was widely reported that Easy E had fathered at least seven children with six different women, although other accounts suggest those numbers may be even higher. His oldest son, the rapper Lil' Eazy, remains engaged in an ongoing legal dispute with Wood over the financial rights of Easy-E's material, record labels, and image.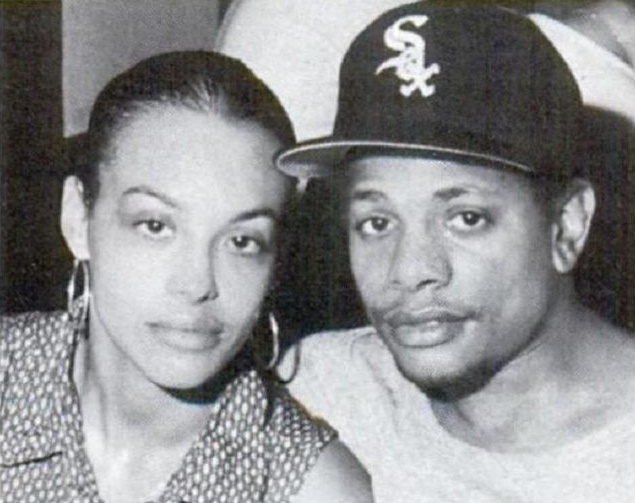 Eazy-E's death was one of the highest-profile AIDS deaths up to that time and has continued to spark debate about HIV as a public health issue intimately connected with the hip-hop lifestyle.
In part because of that connection, Eazy-E left behind a multi-million-dollar artistic empire (perhaps worth as much as 50 million dollars). In addition to Lil Easy, another of Eazy-E's daughters, Erin bria Wrigt AKA E.B, has built a successful fashion and performing career in her own right. Some of Eazy-E's other children are performers as well, including the hip-hop artists Remarkable and Baby Eazy-E (E3).