Biography
What was Charles Barkley known for? Charles Barkley is an American retired professional basketball player. At present he works as an analyst on Inside the NBA.
Who raised Charles Barkley?
Charles Barkley was born on the 20th of February, 1963 to Charcey Glenn and Frank Barkley. He was 1 of 4 sons born to this young family in their 20s although his brother Rennie died during infancy. Unfortunately, Frank Barkley left his family when Charles was young and started a new life, refusing to be involved financially or emotionally with Charcey and his boys. Charles was raised by a single mom and grew up in poverty. Charles's father didn't become involved in his son's life again until he had already begun making his climb into the spotlight. Although resistant at first, he did eventually reconcile with his father and has a good relationship with him to this day.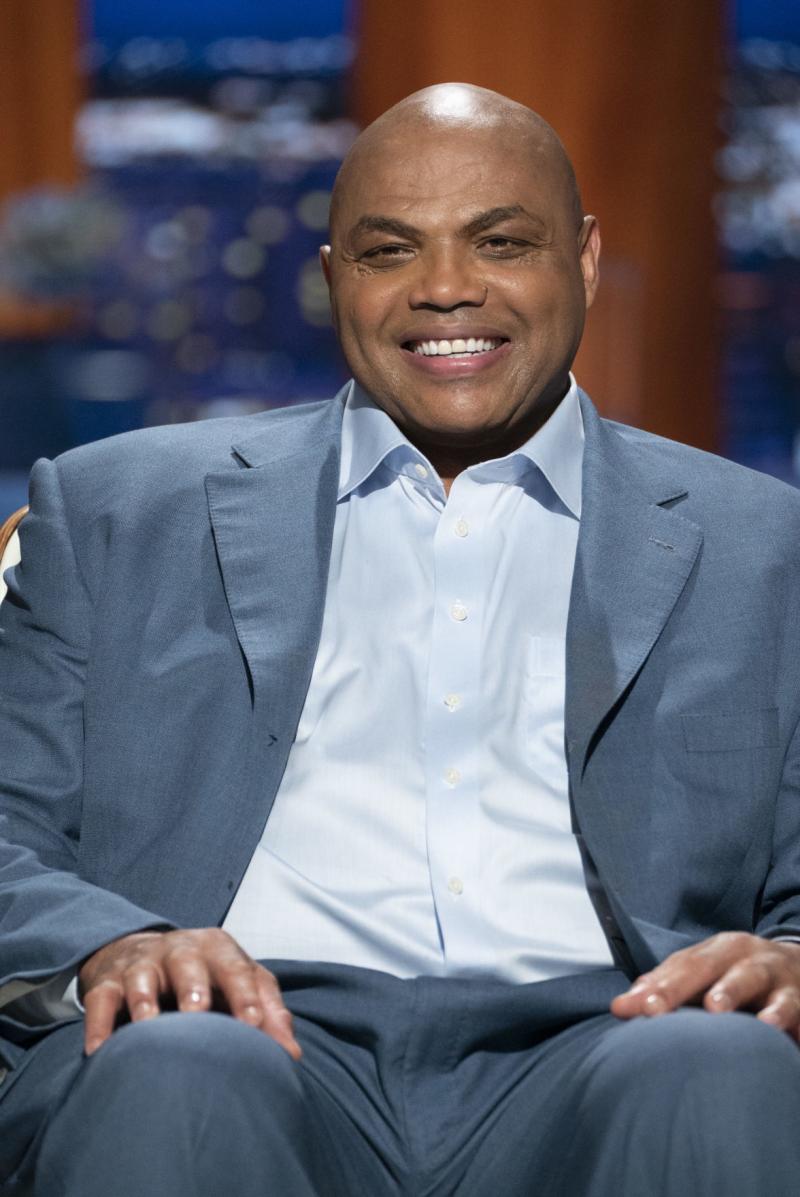 Basketball career
Charles was raised in Leeds, Alabama and as a junior was not allowed to join the varsity team and was only named as a reserve. However, over the summer his humble 5-feet 1o inch frame gained 6 inches and he made the team the following year. He led his team to an impressive 26-3 record on their way to the state semi-finals. He received little to no attention from the college basketball scouts until he scored 26 points against Alabama's mostly highly sought-after High School player.
After being recruited by Auburn University Charles played 3 seasons with the school while majoring in Business Management and was known for his prowess in rebounds despite his size. Despite being shorter than the average center, Charles played center during his college basketball years.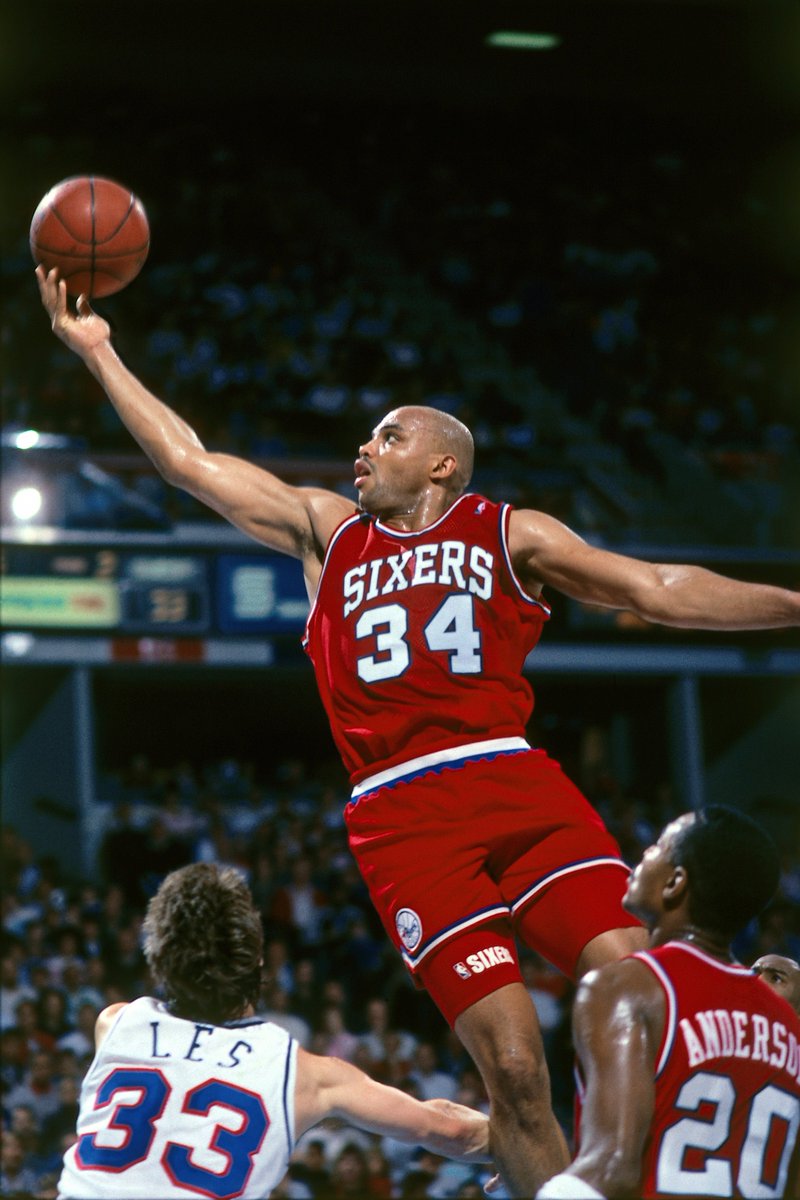 Charles was recruited by the NBA and went on to play for the Philadelphia 76ers in 1984. He played alongside Julius Erving, Moses Malone and Maurice Cheeks. The three star players that led the 76ers to the 1983 NBA championships. Moses Malone worked with Charles and helped him better manage his weight. With Malone's help Charles averaged 14.0 point and 8.6 rebounds per game and earned his place on the All-Rookie team.
In his second year with the 76ers Charles continued to improve his skill with off season work outs under the training of Moses Malone and became the team's best rebounder and number two scorer. The following season (86-87) Malone was traded and Charles moved into the role of the team's leader. In the 89-90 season Charles received the most votes for MVP but lost the honor to Magic Johnson.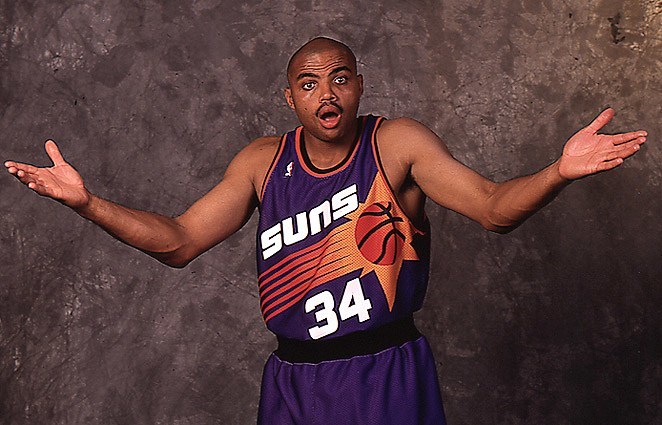 The 1991-1992 season was Barkley's final year with the 76ers, during this season he wore the number 32 in honor of Magic Johnson who had recently announced he'd been diagnosed as HIV positive. In his final season with Philadelphia Barkley averaged 23.1 and 11.1 rebounds per game, earning his 6th consecutive appearance on the NBA All start team.
Barkley's time in the NBA thrust him into the professional sports spotlight and he became a household name. His aggressive and direct style of play and handling was likely the cause for this at times. One such incident involved a fan in the crowd heckling and shouting racial slurs to the point that Charles attempted to spit on him. Unfortunately, he spit on a little girl in the crowd instead. This of course became a national story that cast many dispersions on the player. He did his best to handle the situation gracefully, however, apologizing to the family and providing them free tickets to his games.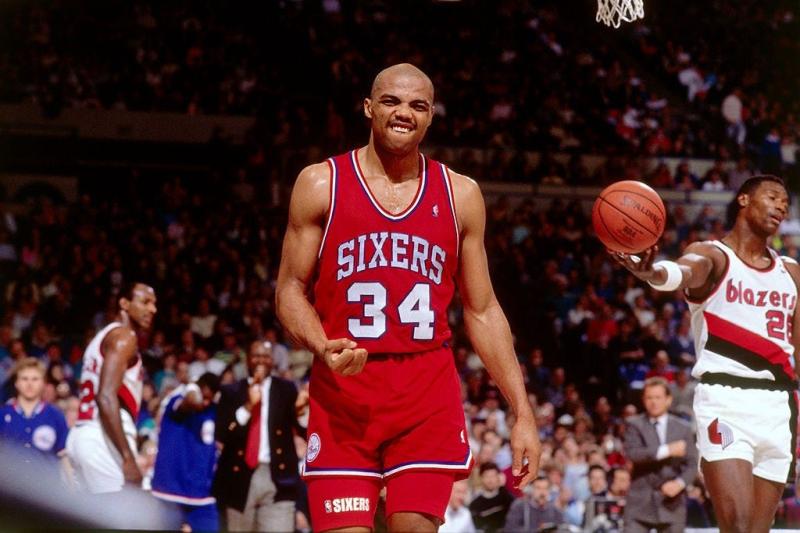 Unsurprisingly, Charles was one of the players that took the lead in a Nike ad campaign that proclaimed, "I am not a role model". His viewpoint was that many inmates in prison can slam dunk a basketball, this doesn't make them worthy of adoration. He instead encouraged parents to be the role models and examples their children needed.
Phoenix Suns
The 1992-93 season saw Barkley traded to the Phoenix Suns where he averaged 25.6 points and 12.2 rebounds per game leading the Suns to a 62-20 record. For all his efforts he earned the MVP award for the league. Charles Barkley was the 3rd ever player to win the MVP award immediately following a trade and saw his 7th appearance on the All-Star Team. With his valiant efforts, Charles was able to lead the Suns to the finals for the first time since 1976 but they were unable to cinch the championship, and were defeated by the Bulls in six games.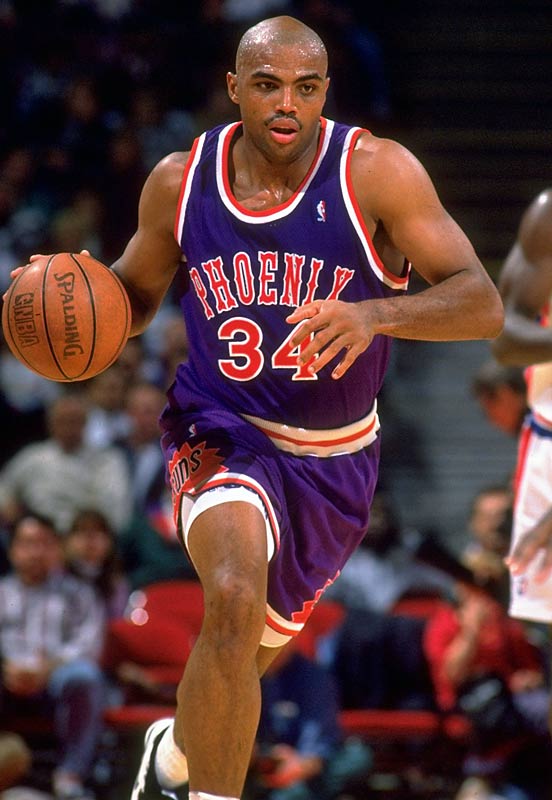 After the 1992-93 season Charles began to experience severe back pain and speculated the next season would be his last. The Suns played through a respectable season, and despite being selected for an eighth time to play on the All-Star Team, Charles was unable to due to a torn right quadriceps tendon.
Despite his trepidations, Charles decided to return for his eleventh season in the 1994-95 season. The season remained a lackluster season due to his continued battle with injuries although they began to improve as the season wore on. He continued to debate retirement during the off season but chose to return for the 1995-96 season with the Suns. He led the team a final time in scoring, rebounds and steals. His average being 23.3 points and 11.6 rebounds for the season. He earned a place in the All-Star Game for the 9th time and received the most votes among Western Conference players. During his NBA career with the Suns Barkley earned All-NBA and All-Star Honors in each of his 4 seasons.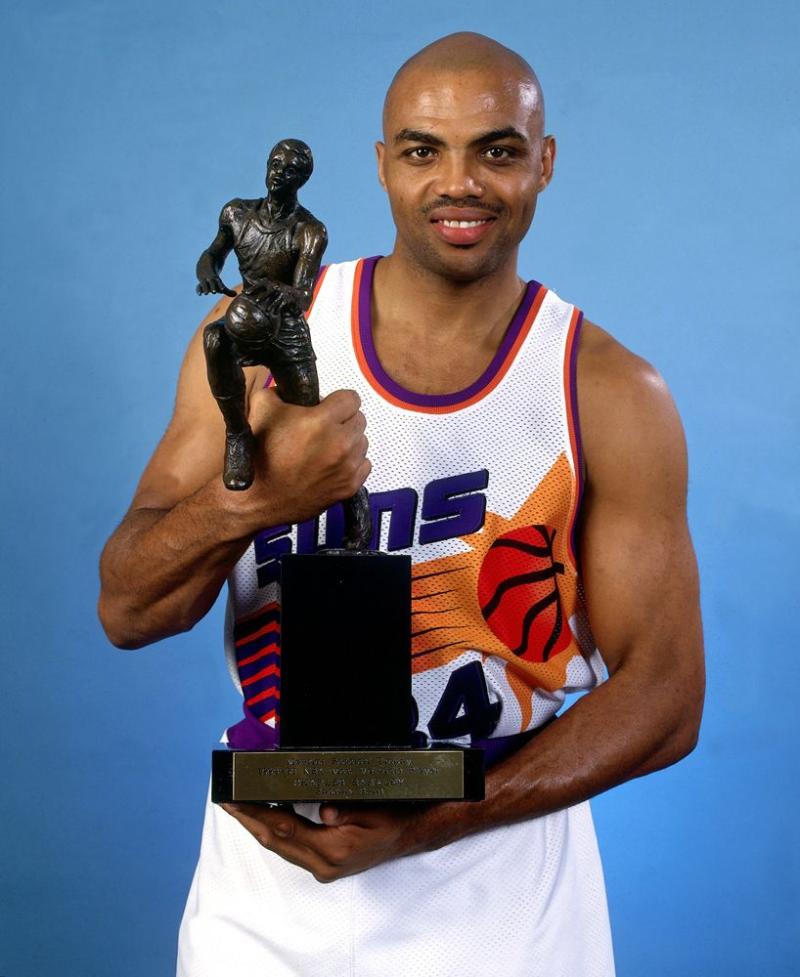 Houston Rockets
In 1996 Barkley was traded to the Houston Rockets. Joining a veteran lineup that included 2 of NBA's 50 Greatest Players, Hakeem Olajuwon and Clyde Drexler. The season got off to a rocky start with Barkley being suspended from the season opener after responding to a foul from Charles Oakley with aggression. He battled injuries throughout the season and missed many of the games, playing only 53 in all.
Charles Barkley stayed with the Rocket's through 2000 and a total of 4 seasons. On December 8th, 1999 Charles ruptures his left quadricep, landing him on the injured list for 4 months. Refusing to allow his career to end there he returned for a final game on April 19th, 2000. During his final game he scored a basked on an offensive rebound with one of his trademark shots, a "putback", and walked from the court to a standing ovation. Following the game he immediately retired.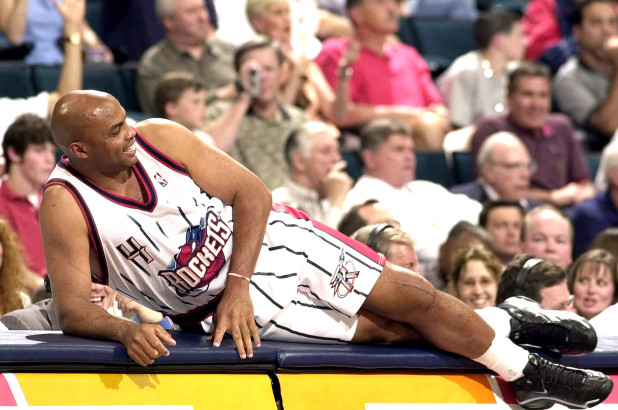 Off the court Charles was and continues to be an outspoken and aggressive man, using his platform for his political involvement speaking on behalf of the Republican Party and being involved in somewhat controversial ad campaigns stating athletes are not role models.
Analytic
Since leaving the NBA Charles has been a TV analyst on TNT for the NBA for pre-game and half time shows as well as many NBA special events. He's also part of the "Inside the NBA" post-game show. He's also served as a guest commentator for NBC's coverage of the NFL Wild Card playoffs. He's also made many additional tv appearances playing himself in "Space Jam" as well as appearing in episodes of "Suits", "We Bare Bears", "Modern Family", and "The Goldbergs".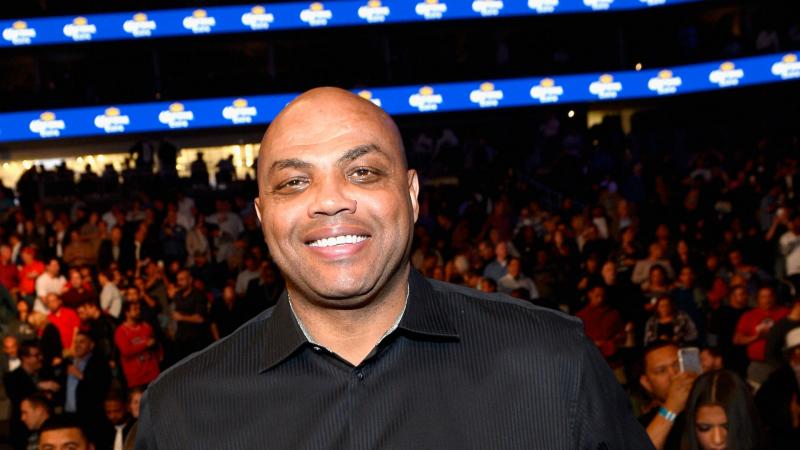 Throughout his career Charles has been well known to have a gambling problem. However, in an exchange with fellow TNT host Ernie Johnson, Charles stated that it's a bad habit, but as long as he can afford it he doesn't see it as a "problem".
Personal life
Charles has been married to Maureen Blumhardt since February 1989. The same year they were married their daughter Christina Barkley was born.
What is the net worth of Charles Barkley?
He currently resides in Scottsdale, Arizona with his wife and his estimated net worth is $40 million.